Entrepreneurial Bookkeeping
Part 2 | Lead Marketing Reports
There are a lot of key questions you need to ask yourself when you think about what business model suits you best. What is your 10 year revenue goal? What is your profit goal for this year? What will you sell to make those numbers? Are you planning specifically for this every month? Is your business in growth mode or profit mode?
The reality is that most companies, even many successful ones, don't plan or measure around their own goals. It's very important to decide between growth and profit every year. One of these needs to take priority over the other. If you take a lot of profit out of the business, growth slows down, and if you reinvest all your money back into your business, it grows faster but you won't have as much profit for yourself. We recommend that new businesses take as little profit as possible in their first three years so that they grow faster. The most successful businesses create healthy customer bases with business models that break even on the front end and profit on the back. In the early stages, most company's front and back end are the same, so while you're growing and investing in marketing, reinvest as much as possible.
Good and Bad Debt
Unfortunately, a lot of new business owners go into survival mode quickly and try to live off the early profits, but this ultimately costs them higher long term profits. This can starve your business before it really gets the chance to take off. We recommend that, once you have a viable marketing funnel that's going to break even within three months, you sustain and grow it even if it means taking on debt.
As we mentioned in an earlier module, there's nothing necessarily wrong with debt by itself. For a lot of businesses, it's important, and even those that don't rely on it still find it helpful. You just have to be careful how you take it on and handle it. A lot of factors play into whether a certain kind of debt is good or bad. Who are you borrowing it from? What are you borrowing it for? Are you borrowing enough, too little, or more than you need? How are you planning to pay it back?
You need to figure out the difference between good debt (debt that helps your business) and bad debt (debt that makes things harder). To help, we discuss the differences in the video below. We also share our personal experiences of how we used debt to grow and explain why we would do it again.
Marketing Reports
Once you've created your long and short term goals and made a decision on profit reinvestment and debt, you're ready to create a lead marketing report. This report tells you when you're on track to meet your end goals and helps dictate any actions you need to take in the subsequent months to meet them. Most marketing budgets are a fixed percentage of income, with no regard to effectiveness. We've created a report that lets you spend as much as possible on marketing, as long as you're profiting on the back end. When you use this report right, it helps you grow at any rate you choose while staying profitable, or at least breaking even, on the front end.
When we talk about marketing here, we're not really talking about things like networking at a conference or branding, though those might well be marketing. Instead, when we talk about marketing, we mean something that can be measured down to the dollar, like an ad. This means that we can clearly and accurately measure everything, from costs to revenue. Our marketing lead report is built around this idea. We do this because if, for example, you can't tell exactly how much it costs you to acquire a new customer, then you have no way to calculate if something is a good investment or not.
The formula for recognizing effective marketing is simple. If it's effective, it looks like this:
This means that the amount of money it costs you to acquire a customer is less than the amount that customer brings into your business. For example, if it costs $400 to acquire a customer and the value of the customer is $1200, you can acquire more customers with a healthy gross profit of $800 each. This report gives you targets for future marketing budgets and measurements based on past performance.
As for the report itself, it's broken down into these categories:
Marketing sales goal: How many sales you want to make as a direct result of the marketing you've invested in. Even if this goal is unlimited, we highly recommend you pick a certain number that will work as a target.
Revenue per marketing sale: How much money you want to make from each sale made as a direct result of marketing.
Cost per acquisition: The final calculation of exactly how much it costs you to gain a new paying customer, which is essential for knowing how much you need to invest in marketing to get a return on it.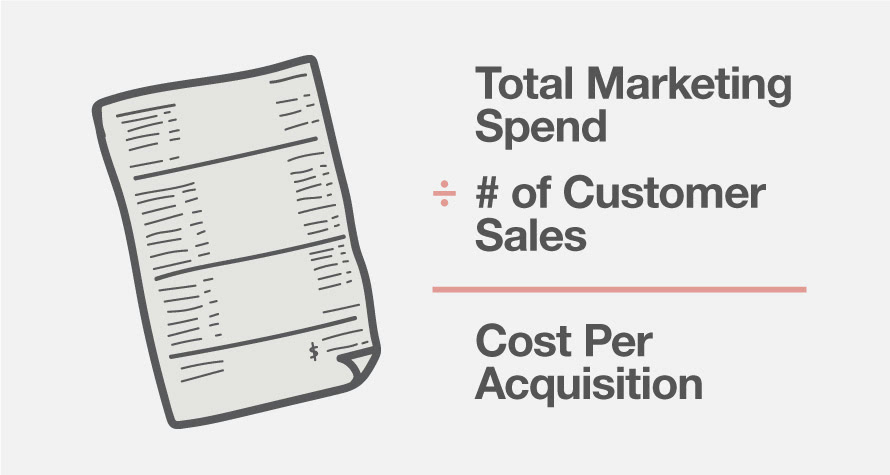 We've also created the report to let you customize it based on whether you want your current business model to focus on growth or on maximizing profit. The more you want to grow, the more aggressively you should invest in marketing. Plug numbers into the report to establish answers for these important questions:
How much cash do you have to invest in marketing this month?
What is the current lifetime value of one of your customers?
What is your current (or target) cost per acquisition?
How long will it take you to break even?
Do you want to use the report for a growth or profit model?
If you use the report and get answers to those questions, you'll know how much you can afford to spend per customer to get your desired profit and growth level. As you inspect this report, you'll be able to adjust and improve your marketing or pause/lower your budget investment in real time. It's important to remember that this report only covers the direct cost of marketing. It doesn't cover the indirect cost of hiring a design firm for the ads or an agency to run them. We include these under operating expenses on your P&L.
We brought all these components together to create our lead marketing report. Use it to plan and measure your marketing investments.